In today's pass-happy league, cornerbacks are being sought after and are a bigger need than say, 10 years ago. With the likes of Drew Brees, Tom Brady, Aaron Rodgers, and Matthew Stafford throwing the football an average of 30-40 times per game, it's easy to say that cornerback has become the second most important position (behind quarterback, of course) on the football field.
Since the 2009 NFL Draft, the cornerback position has had the most players selected overall. From 2006 to 2008, wide receivers were the most popular pick. This goes to show that teams are focusing more on the aerial attack than in the traditional ground & pound.
There are a lot of talented cornerbacks entering the Draft this year and it should be one of the most sought after positions by bad teams, average teams, and Super Bowl contenders.
Here's a list of the top 5 cornerbacks in the 2012 NFL Draft.
#1: Morris Claiborne, LSU
#1: Morris Claiborne, LSU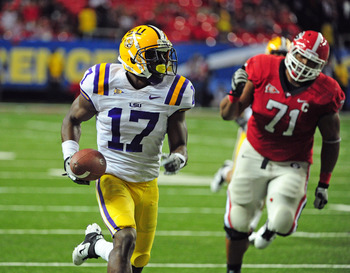 Scott Cunningham/Getty Images
Morris Claiborne has solidified himself as the cream of the crop in this years draft and will go into the NFL with tons of playing experience and plenty of skill to start for any team on day 1. He has played for one of
College Football
's best defenses and has started every game for them. He had a key interception against the Crimson Tide in their first meeting that led to the game tying field goal that would eventually lead to overtime.
Claiborne is a game changer with lots of skill and play making ability. He has great speed and athleticism, and will become an elite cover cornerback for any team in no time. He has great instincts and has the ability to play both man and zone while still making game changing plays. He also has the ability to help out in the run game, which will entice many of the teams picking in the top ten.
Projection: Top 5
#2: Dre Kirkpatrick, Alabama
#2: Dre Kirkpatrick, Alabama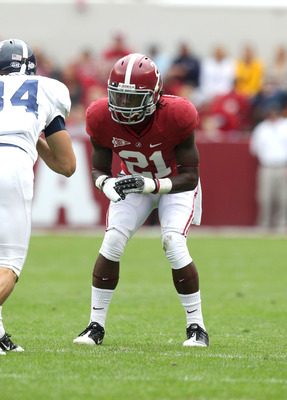 Mike Zarrilli/Getty Images
Dre Kirkpatrick also has a ton of skill that will make him an elite cornerback at the next level in no time. He goes to the NFL having played three years for the most disciplined and most feared defense in College Football. In Alabama's first match-up against the LSU Tigers, he completely shut down Reuben Randle and played mistake-free football.
He can be a little inconsistent at times, but that shouldn't hurt his draft stock too much as he is capable of making big plays when they are most needed. Last year, Kirkpatrick got dominated by the bigger Alshon Jeffery and teams could worry about what he can do against those types of receivers. It is also unclear if playing for the nation's best defense had anything to do with his productivity and ability to make plays.
Kirkpatrick has a high ceiling and will surely step up and be a starter for any team in day 1.
Projection: Top 10
#3: Alfonzo Dennard, Nebraska
#3: Alfonzo Dennard, Nebraska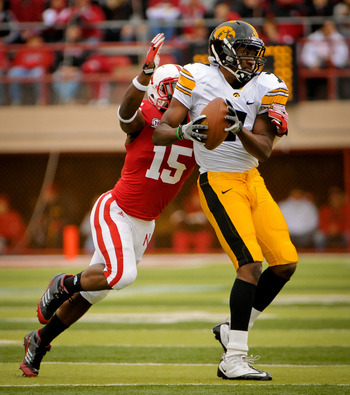 Eric Francis/Getty Images
Alfonzo Dennard has been a fairly consistent player this year and has played well in big games. He had a fantastic game against Michigan State, where he shut down B.J. Cunningham, and he also had a great game against Iowa, shutting down Marvin McNutt. He does a great job of jamming receivers at the line of scrimmage and is an extremely physical cover corner. He is rarely caught out of position and rarely has mental mistakes.
Dennard is a little undersized, but his physicality makes up for his size. He is excellent in press man coverage and can also play zone coverage. Last year, he displayed most of his skills as teams tried to stay away from Prince Amukamara. This year, teams did the same and tried to stay away from Dennard.
Projection: 15-20
#4: Stephon Gilmore, South Carolina
#4: Stephon Gilmore, South Carolina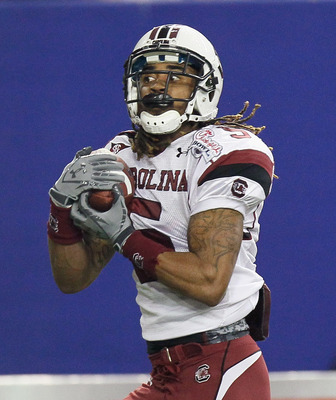 Kevin C. Cox/Getty Images
I thought Stephon Gilmore should have stayed for his senior year as he has some things he still needs to work on. Gilmore is probably the best run supporter of all the cornerbacks in the draft. He has been stopping the run since his freshman year and has been doing it consistently well. He was recruited as a safety out of high school, which may explain his great run stopping skills. He constantly goes up against the best receivers on the opposing teams and does a great job with keeping up with them.
His return skills will also entice a team to maybe draft him a little too high. He does an excellent job playing zone, but his man coverage skills really need to improve. He got beat a couple times this year because he got lost in coverage and was unable to recover. He also had some pass-interference penalties because of poor coverage. If he had stayed at South Carolina for one more year, he might have been a top 15 or maybe even a top 10 pick.
Projection: 20-25
#5: Janoris Jenkins, North Alabama
#5: Janoris Jenkins, North Alabama
Sam Greenwood/Getty Images
Janoris Jenkins
is a curious case. Had he stayed out of trouble in his years at Florida, he might have been the first cornerback taken in this years draft. However, his off-field issues cost him a spot with the Gators and has had to play for North Alabama since. He obviously dominated against weaker competition while at North Alabama and his draft stock will depend on how he interviews with teams, and if he can stay out of trouble from now until the draft.
Jenkins does not have great size for an NFL cornerback, but his skill-set will put down any questions about his size. The only reason he will not get drafted as high is because of some of the arrests he had for smoking marijuana while at Florida, but if he can manage to stay out of trouble in the NFL, he will be one of the best cornerbacks out of this draft.
Projection: Early Second Round