South Carolina's historic season has come to an end. The first ever 11-win season for the Gamecocks ended with a 30-13 victory against Nebraska in the Capital One Bowl and showed why these is one of the best Gamecock teams ever.
However, it is now time to focus on those players that will no longer be part of the program, whether it's because of graduation or declaring early for the NFL draft. Such players include Alshon Jeffery, Melvin Ingram, and Stephon Gilmore, which have been the backbone of this team all season long.
Three of these guys have the ability and potential to be first-round draft picks and make an immediate impact for their new teams. Let's take a look at where some of these Carolina players will get drafted.
Alshon Jeffery: Round 1, Jacksonville Jaguars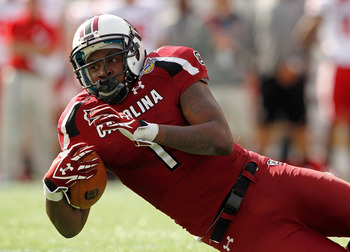 Mike Ehrmann/Getty Images
Alshon Jeffery is one of the top wide receiver's in this year's draft class. Him, along with Justin Blackmon, have everyone talking about who will get drafted higher, and who will have a bigger impact on their new team. I have Jeffery going 7th overall to the Jacksonville Jaguars right behind Justin Blackmon, which I have going 4th to the Browns.
Blaine Gabbert hasn't looked anywhere near what the Jaguars thought he would look, but they have to get him some weapons. Marcedes Lewis is a pretty good tight end, and Maurice Jones-Drew is one of the top running backs in the league, but who else do they have? Mike Thomas could be a decent #2 receiver but is nowhere near a #1 target, and Taylor Price has some potential, but won't be a top receiver either.
The Jaguars will give Blaine Gabbert a target for the next ten years, and they might just be able to stay in Jacksonville.
Melvin Ingram: Round 1, Seattle Seahawks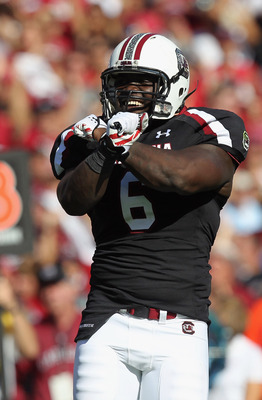 Streeter Lecka/Getty Images
Melvin Ingram has been one of the most dynamic defensive players this past year. He came into this season without being on anybody's radar and has played at an extremely high level all season. He has played himself into the first round of the draft and will be highly regarded come April.
The Tennessee Titans really need to be able to generate some pass-rush if they want to be successful in the coming years. They drafted Derrick Morgan a couple years ago and he hasn't really played up to expectations. They have a very good offense with Chris Johnson, Jared Cook, Nate Washington, and Kenny Britt.
With the likes of Derrick Morgan, Akeem Ayers, Colin McCarthy, and the addition of Melvin Ingram, the Titans would have one of the best young defensive front seven in football.
Stephon Gilmore: Round 1, Dallas Cowboys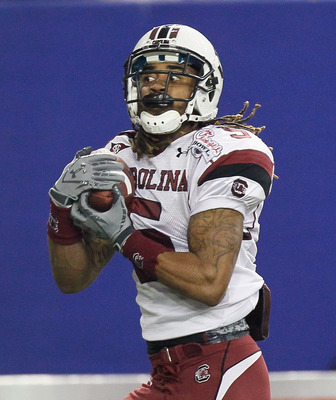 Kevin C. Cox/Getty Images
Stephon Gilmore has seen his stock rise and fall consistently this season. He has been the Gamecocks best cornerback for the last three years and has made game-changing plays on a consistent basis. He led the Gamecocks in interceptions for the second straight year and has the potential of being a first-round pick this coming April.
The world was shown what the Dallas Cowboys' secondary looks like against the New York Giants in the last Sunday Night game of the season. They are in desperate need of a solid cornerback that can shut down the other team's top receivers. Gilmore will step in right away and compete for the starting cornerback role, and will likely come out on top. He will also be used in special teams and will allow Dez Bryant to focus more on playing wide receiver than worry about returning punts.
Terrence Newman might have seen his last days as the Cowboys starting cornerback after getting embarrassed against the Giants.
Antonio Allen: Round 3, Cincinnati Bengals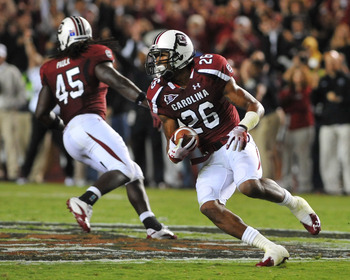 Al Messerschmidt/Getty Images
Antonio Allen
was the Gamecocks most efficient defensive player all season long. He led the team in tackles and made just about every play the Gamecocks needed on defense. His absence was evident when the Gamecocks took on the Arkansas Razorbacks while he healed from an injury. The defense appeared lost without their vocal leader on the field.
The Cincinnati Bengals had a breakout season this year. Andy Dalton looks like the real deal and A.J. Green is already a Pro Bowl Wide Receiver. They will have two picks in the first round this year and will look to further improve their young squad. One hole the Bengals have right now is at the safety position. Chris Crocker had a solid season but is not the answer for the future. Taylor Mays has been a bust since being drafted in the second round and will not be making the starting lineup anytime soon.
Allen would give the Bengals a playmaker at safety and someone that will become a leader in the secondary in the near future.
Rokevious Watkins: Round 6, Philadelphia Eagles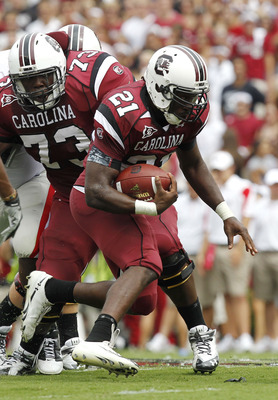 Mike Zarrilli/Getty Images
Rokevious Watkins has played everywhere they have asked him to play. With the Gamecocks injuries along the offensive line this year, Watkins has played both tackle positions, as well as both guard positions. He has been a block on the offensive line throughout his time in South Carolina and his size should be looked at as an advantage. The guy is a monster.
The Eagles struggled mightily in pass protection this year. When Michael Vick gets sacked four times in a game, there is something very wrong with your offensive line. The Eagles might look to fill the void earlier in the draft, but Watkins would give them more depth and will possibly become a very solid starter with a couple years of experience. The Eagles improved their offensive line problems with the addition of Danny Watkins last year, but will have to keep improving it this year.
Watkins will likely be used at right tackle or guard, and will help the Eagles passing game, and their running game get better than it already is.
Travian Robertson: Round 7, San Diego Chargers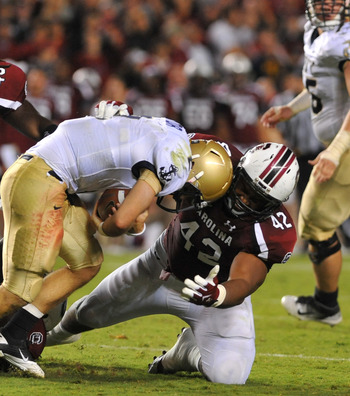 Al Messerschmidt/Getty Images
Travian Robertson was the least talked about player on the defensive line for the Gamecocks. When you're playing next to Melvin Ingram, Devin Taylor, and Jadaveon Clowney, you have to really stand out to be noticed. Robertson had a solid season as a senior, but many may say it was because of the attention payed to those other players on the defensive line.
The Chargers need to keep improving their pass rush and Robertson will clearly help them out. As a 7th rounder, he won't get many opportunities to show what he can do on the field, but if Robertson keeps improving, he will soon find himself seeing the field more often. The Chargers struck gold with Corey Liuget in last year's draft, and won't stop from improving their defensive line.